"Sri Lanka's social indicators are among the best in South Asia, with near universal literacy, and comparatively low levels of poverty. Since the country's civil conflict ended in May 2009, Sri Lanka has recorded high economic growth. The new government that was formed following the presidential election in January 2015 is focused on inclusive growth and good governance"
-Asian Development Bank

"Index of Economic Freedom measures the pro-business policy environment of a country. According to the Index of Economic Freedom – 2014, the country has been ranked 90 of 186 countries". - The Board of Investment Sri Lanka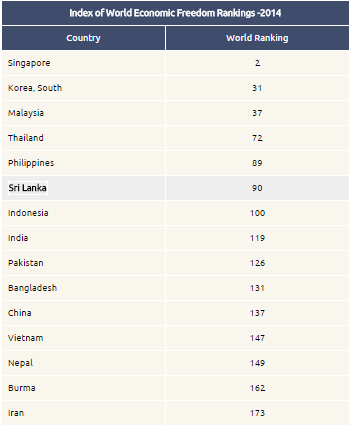 "Economic growth in Sri Lanka has been among the fastest in South Asia in recent years. Growth averaged 6.3 percent between 2002 and 2013, with Gross Domestic Product (GDP) per capita rising from US$859 in 2000 to US$3,256 in 2013"
-The World Bank

In 2014, the Sri Lankan economy demonstrated resilience despite the external and domestic challenges, recording a commendable growth rate of 7.4% year-on-year. Inflation remained benign due to the prudent monetary policy coupled with the considerable decline in global commodity prices in the second half of the year. Sri Lanka's economy grew by 4.4% in the first quarter of 2015 and 6.7% in the second quarter of 2015. Construction, which had driven growth for the previous 5 years, declined markedly in the first half of the year from the period a year earlier. Offsetting this in part, robust spending in consumption-related sectors such as wholesale and retail trade sustained relatively strong growth. The election in January 2015 of a new president and the change in government, as well the parliamentary elections later in the year, slowed activity as investors adopted a wait and see approach. With political uncertainties now diminished, private sector investment is expected to revive.